Hey Everybody! Are you all ready for the 'Ultima Irritating Yearly Ending' update? Well if you're not then please by all means press 'alt' and 'w' together.
Well for those who are, I'm speechless yet I'm happy. So I'm going to start a speech. Enjoy!
So, all I can tell you is thanks alot for actually viewing this blog, seriously I thank every single one of you who've been viewing my blog since.. well, I started blogging. I started blogging on February 25th 2005 on the topic of the 'broken' key, if you ppl read my old blog before. Those people, as in You all, are the ones who gave and still continue giving me support, confidence and well I guess we can say 'will' to continue this blog. Due to the lack of popularity of my blog. Okay, I admit my blog isn't popular at all don't believe? Then look at the 'hit counter' compare em' with every blog. So first I would like to announce the most popular blog I know in SMSKL.
Note: Incase you're curious on how I stream, well its simple. I base on the number of hits on their hit counters, creativity and most importantly originality. Even if you find that you're hit counter is above theirs, its probably because you lack originality. You know who you are.
Form 5
Tze Lin! With 25,230+ hits!
Link
Congrats!
Though next year you won't be in the competition anymore.
Good luck in what ever you do.
Form 4
Unavailable, as I do not know any form fours who blogs.
Hopefully I will know one next year for form five.
Form 3
Unavailable, as I don't really know which blog is the most active.
Hopefully, ya'll put hit counters on your blogs.
It'll save me the trouble.
Form 2
Fiona Goh! With 7270+ hits!
Link
Congrats!
Continue blogging and score more hits.
Good luck for next year's competition and PMR.
Study Hard!
Form 1
Wan Malini! With 1280+ hits!
Link
Congrats!
Hope you continue blogging with those fancy animations of yours.
Score more hits next year.
---
Next, I'll publish my 'Top 30 Songs of the Year'.
01. Lemon Tree by Fool's Garden
Description:
It's obvious isn't it? Ahaha. This song won me second place in Talent Time. Not forgetting this is my favourite childhood song. Happiest song I know! Thanks ya'all for Supporting, Singing along and Cheering on for me! =D I couldn't have done it without all of you. I hope it'll be the same next year (2006). I'm going to sing a Ricky Martin song! xD.
02. Tong Hua by Guang Liang
03. D-techno Life by Bleach or UVERworld
04.You're Beautiful by James Blunt
05. Eleanor by Low Millions
06. Chariot by Gavin DeGraw
07. Beautiful Soul by Jesse McCartney
08. Reasons by Ryan Cabrera
09. Collide by Howie Day
10. Strangers Like Me by Phil Collins
11. I'll Be by Edwin McCane
12. Livin' La Vida Loca by Ricky Martin
13. Ocean Avenue by Yellow Card
14. We Believe by Good Charlotte
15. Still Waiting by Sum 41
16. Stand by Me by Ben E. King
17. The Simple Things by Randy Travis
18. P.S. I Love You by All American Rejects
19. Grow Up by Simple Plan
20. Just the Girl by The Click Five
21. Save Me From Me by Amber Pacific
22. Stay the Same by Joey McIntyre
23. One Day by Simple Plan
24. Can't Take My Eyes Off You by Lauren Hill
25. Country Road by John Denver
26. Best of Intention by Travis Tritt
27. View From Heaven by Yellow Card
28. Aku Cinta Padamu by Siti Nurhaliza
29. I Just called to say I Love You by Stevie Wonder
30. Leave Right Now by Will Young
---
So I guess the next part I'll blog about is about this year, two thousand five. I've been in One Alpha and I'm one of the thirty students there, with my favourite teacher Mrs.Indra. I know most of you will deny it, but shes seriously nice. For those who thinks that Mrs. Indra too is nice, please tag it in my tagboard. I wanna see who really thinks shes a good and nice teacher. So this year I've been an average student, I guess. Oh, and I wanna list my eight favourite teacher who taught us, in no order what so ever except alphebetical.
01. Cik Zafrinah
02. Miss Sri
03. Mr. Ng
04. Mrs. Chandra
05. Mrs. Indra
06. Puan Aslamiah
07. Puan Sanizah
08. Puan Sharifah
Thank you for tolerating my nonsense every time. Not forgetting being nice and happy most of the time. Making us laugh and allowing us to joke. So now I would like to list all my teachers and classmates in alphebetical order. Not forgetting the nicknames are by One Alpha 05.
Teachers
01. Cik Zafrinah
Nickname: -
02. Miss Foong
Nickname: Harry Potter
03. Miss Sri
Nickname: Srivijaya
04. Mr. Nathan
Nickname: -
05. Mr. Ng
Nickname: -
06. Mr. Yeong
Nickname: -
07. Mrs. Chandra
Nickname: -
08. Mrs. Chong
Nickname: -
09 .Mrs. Indra
Nickname: Penguin
10. Puan Aslamiah
Nickname: -
11. Puan Nomi
Nickname: Know Me
12. Puan Roserin
Nickname: -
13. Puan Sanizah
Nickname: Pizza
14. Puan Sharifah
Nickname: Sejarah
Students
01. Amelia Neoh
Nickname: Hello Kitty Girl
02. Ariel Ooi
Nickname: Little Mermaid
03. Lee, Boon Seong
Nickname: Baboon
04. Calvin Khor
Nickname: -
05. Carine Ch'ng
Nickname: Curry Ching
06. Crystal John
Nickname: Sakkai
07. Daniel Lim
Nickname: Danny
08. Derrick Khoo
Nickname: Doggy
09. Elena Ang
Nickname: Elephant
10. Fong Zheng
Nickname: Bloody Balloon
11. Hugo Ng
Nickname: -
12. Jeremy Loh
Nickname: -
13. Choy, Joon Hoe
Nickname: Ah Boi
14. Ooi, Ji Kin
Nickname: Chicken
15. Justin Choong
Nickname: Dustbin
16. Laura Lok
Nickname: Locker
17. Livia Hong
Nickname: Sunnie
18. Natalie Liew
Nickname: Horny Devil
19. Hor, Rina
Nickname: Reeniey
20. Samantha Leong
Nickname: Man
21. Sherlyn Fung
Nickname: Chiwawa
22. Sherry Ng
Nickname: Cherry
23. Sheryl Goh
Nickname: -
24. Mah, Siu Yi
Nickname: Dato' Mah
25. Steffi Lim
Nickname: Monkey
26. Stephen Ee
Nickname: Stephenie
27. Ong, Suyin
Nickname: Chloe
28. Ooi,Wei Jun
Nickname: Tai Lou
29.Winston Chew
Nickname: Mr. Chew's Son
30. Soo, Yew Jin
Nickname: Euglena
---
Now continuing with the things I did for occasions with or without my class, with or without some of my classmates, with or without the band, with or without the band members. I don't really know where to start, I mean because there are too many activities I've done. Well most of em' I can remember, yet some I can't. Well there's basically about ten activities? Nah, there's basically gotta be more then that right? So you people gotta help me while I go along okay?
So where should I start? Should I classify it in sections or just say it out straight? What about arranging it with the date? Damn, it's hard to make up once mind, isn't it? Alright! I've got it, I'll just list em' in groups.
Band Performances:
PWTC on 2nd of April.
Sports Day on 23rd of April.
Pre-School Sports Day on 29th April.
Nukata Japan Exchange Program on 19th August.
Open Day on 10th September.
Random and Public Performances and Activities:
English Week Story Telling (Third Place) on 13th July.
Closing Ceremony of English Week's 1 Alpha Sketch on 8th of August.
Gema Merdeka's Choir (Conductor) on 9th of September.
1 Alpha's DeepaRaya rice work on 27th October.
Talent Time Competition sang Lemon Tree (Second Place) on 10th November.
Monkey Mafia:
The Beginning.
Occasion:
Civics Mini Sports Day held on July 21st.

The Mission Impossible became Possible.
Occasion:
Closing Ceremony of English Week held on 8th August.

The Return of the Mafias.
Occasion:
Art Project 1 held on August 14th.

The Gates to the Realm of the Mahs.
Occasion:
Art Project 2 held on August 24th.

Disguised as Stars.
Occasion:
Gema Merdeka Choir held on September 9th.

The Mysterious Rainbow Rice Concoction.
Occasion:
DeepaRaya Rice Art held on October 27th.
The members will be listed down according to which MM Episodes they belong to.
The Beginning

Steffi
Sheryl
Crystal
Laura
Rina
Sam
Justin
Winston
Calvin
Fong Zheng

The Mission Impossible became Possible.

Steffi
Justin
Daniel
Livia


The Return of the Mafias.

Steffi
Sheryl
Livia
Wei Jun
Winston
Stephen

The Gates to the Realm of the Mahs.

Steffi
Crystal
Siu Yi
Livia
Carine
Sherlyn

Disguised as Stars.

Steffi
Sheryl
Livia
Laura
Amelia
Carine
Stephen
Wei Jun
Fong Zheng
Calvin
Joon Hoe

The Mysterious Rainbow Rice Concoction.

Steffi
Sheryl
Amelia
Natalie
Laura
Carine
Elena
Crystal
Hugo
Fong Zheng
Calvin
Stephen
Wei Jun
Boon Seong
Eugene
Daniel
Justin
Jeremy
Joon Hoe
Winston
So those are all the Monkey Mafia Episodes that were held this year. Don't worry I won't forget you all, after all, you made experience special experiences that I will treasure forever. I can't wait for next year's Monkey Mafia episodes. I hope theres gonna be more. I love being leaders at times like these, it just makes you feel happy with all the teamwork shown and the successful result.
Thank You Everyone whos name was listed. You've all changed my life in several different ways just by being in the Monkey Mafia series and co-operating with me.
My Christmas Tree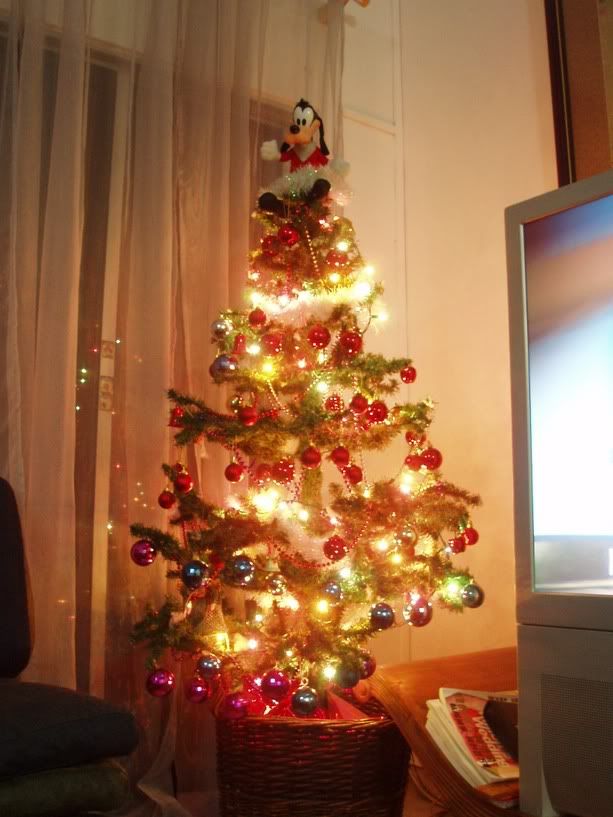 It's Beautiful, It's Beautiful, It's Beautiful, It's True! And I saw the lights and the decorations. I'll never know what to do, Cause I'll never be like it. xD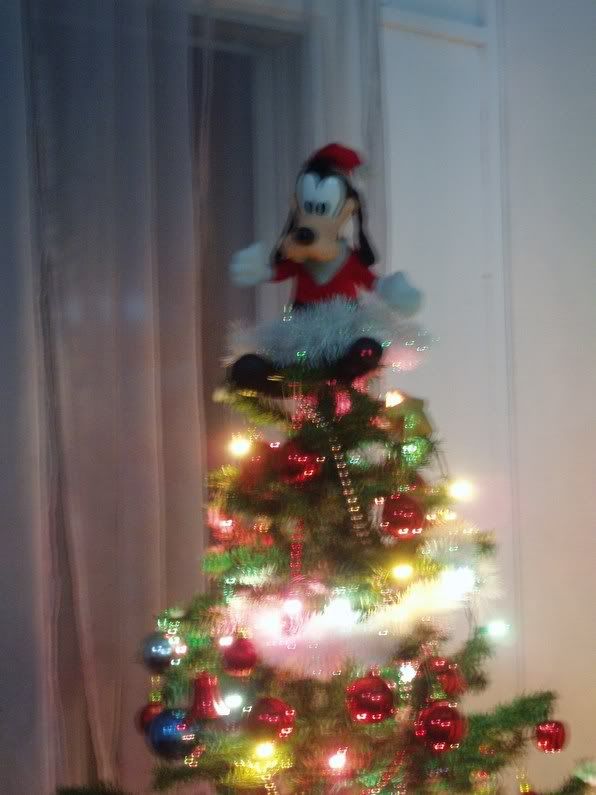 Goofy Clause is on my tree~
Steffi: Ma, should put something on top, maybe a star.
Mom: Aiyo, we don't have a star, nevermind larh we put an angel there.
Steffi: Not nice larh. So, yerr, damn suck larh.
Mom: You so smart then go find and put yourself larh, suck suck suck.
*looks at the side, a bright light shines at something*
*sees Goofy*
*Halelujah Chorus begins*
Steffi: I know! Put Goofy larh! Better then some Angel.
Mom: Okay, Okaylarh. Anythinglarh, I don't care larh.


Don't you just love candy canes? Don't mind retarded me. =D


Wahahaha~ Open Day! In the auditorium


So damn nice larh. Try and spot me. =)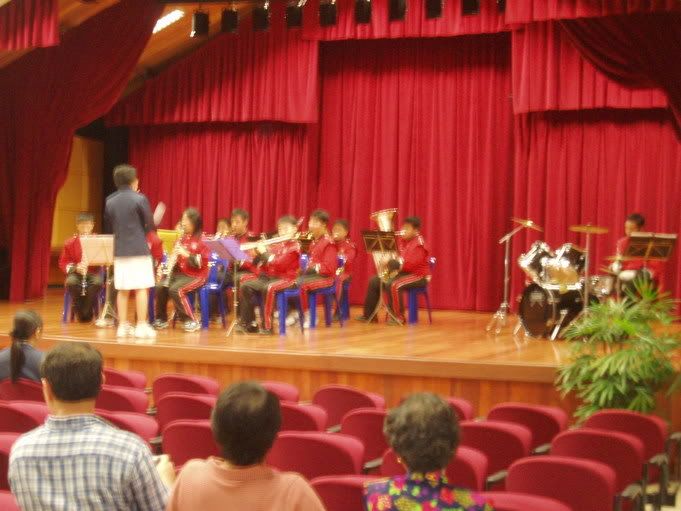 Wahahaha~ The full thing.


Whoa~ It's the choir.


Damn, my back. It's always the back for the conductor.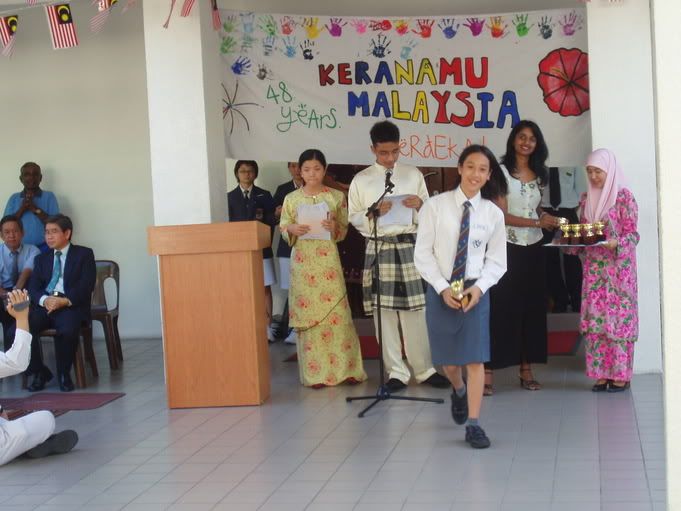 Well not really, It's not the back now right?
The Greatest people, I'll ever know. Thank You all of you!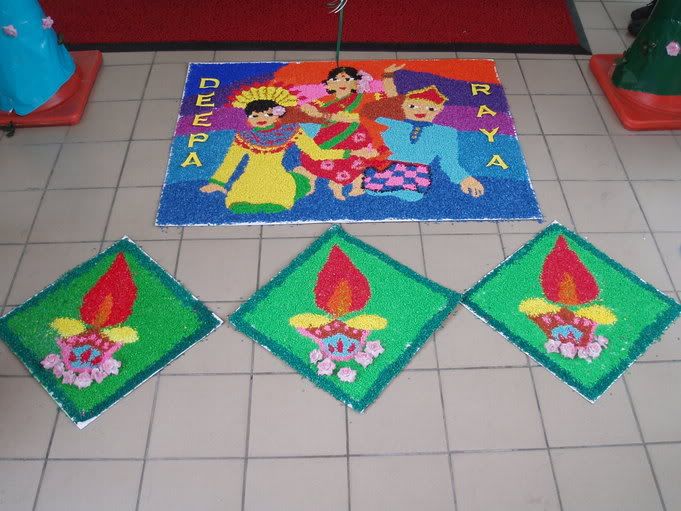 The Rice Art~!
Behold the New Excos, For the Band!!!

*
*
*
*
*
*
*
*
*
*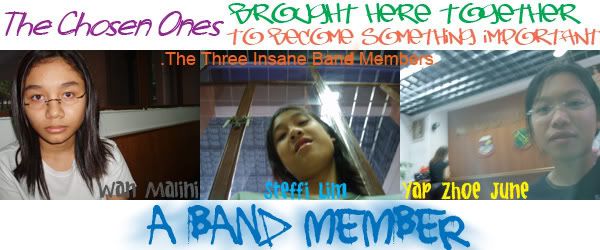 XD I Was Bored. =P
Well I guess that's all the pictures I owe ya. So Happy New Year! Good Bye!
Regards,
>-Irritating Monkey-<